I started drawing and painting at age six without my parents knowing I was born Deaf. I grew up in San Diego,
and went to a strict oral program in a hearing school.

All of my childhood life, I was always creating new pieces, and exhibited my artwork—everything from painting rocks to canvases—at art fairs, in contests, and at galleries from childhood to high school. I went on to study graphic design and painting at the National Technical Institute of the Deaf and Rochester Institute of Technology in New York and earned a master's degree in computer graphic design and painting.
In 1979, I had my very first showing at the National Gallery of Art in Washington, D.C. I then was among 12 Deaf artists participating at the Heart, Eye, Hand exhibit held at the Los Angeles-based Ankrum Gallery. This gallery was owned by Joan Ankrum, Morris Broderson's aunt. Morris Broderson was a famous Deaf artist. It was at this point in my life that I stopped painting. I did not have full confidence in my chances at success in the art community, so I chose to become a 9-to-5 employee.
I worked as a graphic designer for 20 years. I was a graphic designer at Xerox in San Diego. My next job was as a palette designer for 20th Century Fox, where I created color palettes to colorize classic black and white films such as Casablanca, King Kong, Sherlock Holmes, and numerous John Wayne films. In 1991, I moved to Seattle, where I worked as a graphic designer for Microsoft Corporation designing Windows icons. I unexpectedly got laid off. I decided it was time to get back to painting. I took a couple of workshops in preparation for my return to painting business. For eight years, I painted everything from portraits to landscapes and cityscapes to still life.
It was until 2010, I became involved in the De'VIA art movement, and realized I had discovered my passion. I waited so long to start painting Deaf Art. I put off wanting to express my past experiences by audism and oppression from the realm of Oralism. I was not ready to come out of the nutshell and then I did not think I would do well in the Deaf Art, in other word, De'VIA, which is a movement for Deaf Art. De'VIA stands for Deaf View / Image Art. The art movement was established in 1989 by nine Deaf artists. I was hesitated to show the world my Deaf Art. In the past, the Deaf community kept their anger and frustration quiet and low profile. I received an award from Puffin Foundation to study, through painting, on Deafhood, Deaf culture, audism, Deaf history, Deaf politics, American Sign Language and bilingualism.
Artist's Statement

My work has a centralized focus that makes a theme; resistance, affirmation and liberation art.
I create words, images, colours and all of the construction that show blue tapes, yellow lights, hands, eyes, elephant, horse, strings, cracks, bandaids and so on. Primary colours are what I use. I also use monochrome for reinforcement. These elements make a big exposure to both Deaf and Hearing society.

This is what Deaf View Image Art is all about, my interpretation. I make a political statement. I capture today's society that needed attention because it is long overdue. Part of it, is to educate and part of it is a wake-up call. These influences came from painters Jean Michel Basquiat and Jacob Lawrence, who studied the civil rights movement. In resistance art, the work shows mask of benevolence, linguistic controversy, oralism, mainstreaming, genetic engineering, communication barrier, colonialism, paternalism, and audism. In affirmation art, the work shows empowerment, ASL, Deaf culture, identity, acceptance, Deaf history, and Deafhood. In liberation art, I combine both resistance and affirmation that shows empowerment and identity. I paint how Deaf people have been controlled by predominantly audist environments. I seek to portray on how much suffering and submissive Deaf people were, many years when Aristotle (384-322 BC) said "Deaf born senseless and incapable to reason." I felt this was important for the audience to see who and what our human rights are. Discrimination was too much and this is what I am painting today.
The Art Process

I am also influenced by the Fauvism Movement, the Neo-Expressionist Movement and the De Stijl Movement because these art movements used primary colours. Monochrome are used for saturated color areas. I make vivid brushstroke marks and make paintings much more powerful. I do quite abit of 'direct painting,' which is done in a single application. That means using a one-opaque painting technique. Painting from light to dark. Vary types of brush strokes, from thick to thin and short to long marks. Alot of 'scrubbing' in many directions. I do 'scumbling' with a dry brush, too. That means to soften the color of a painted area by overlaying parts with opaque color applied lightly with an almost dry brush.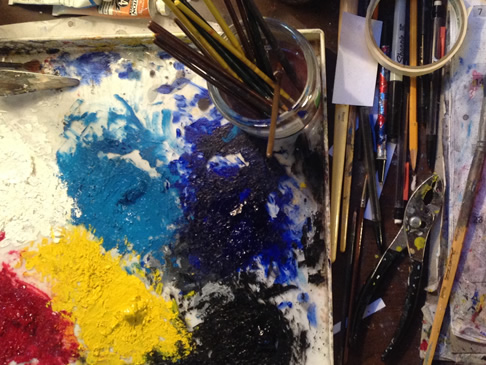 My palette

Example and Meaning of Symbols in the paintings:

Blue tape: tied-down, trapped, crossed-out, mask of benevolence, labeled, ASL prohibited.
Yellow light: so that Deaf people can see.
Yellow color: Hope and light.
Red/white circle: attention, target, focal point.
Light gray-blueish color: Deafhood.
DNA structure: genetic engineering, Deaf Hereditary, Deaf gene, Eugenics.
Hand: Deaf people, Deaf pride, Deaf culture, language and Communication.
Ear, mouth: Audism, oralism, genetic engineering, Eugenics, Alexander Graham Bell.
Red/blue eyebrows: my art style.
Heart: Deaf heart, Deaf mind.
Strings: tied down, audism, trapped, colonialism, Deaf person as a puppet.
Cracks: almost extincted, disappearing and warning.
Bandaid: warning, safe, protection.
Black/blue/white color: oralism, audism and Mask of Benevolence.
Elephant: Alexander Graham Bell and his associates.
Yellow Horse: Deaf people.
Black hole/Circles: invasion, attacking, Second Wave of Oralism.
Red Mountain: Deaf people fighting to stay strong, to overcome Oralism.
To get a better understanding of my De'VIA work, see vlog at:
Understanding De'VIA Work by Nancy Rourke
Video clipping documented by Nancy Rourke 8:55 October 21, 2011
Curriculum Vitae 1978-2015

Awards, Honors and Grants
2015 Ohio School School for the Deaf, on a special project for Deaf students, Artist in Residence, Columbia, OH.
2015 Deaf Women/De'VIA Artists Presentation/Workshop at Deaf Women United, Berkeley, CA.
2015 De'VIA Grafitti at Access Gallery, Denver, Colorado.
2015 De'VIA Wine and Paint in Frederick, Maryland.
2015 De'VIA Workshop at Rocky Mountain Deaf School, Denver, Colorado.
2015 De'VIA Presentation/Workshop at Model Secondary School for the Deaf, Washington, DC. See vlog.
2015 Youth De'VIA Competition, Olathe, Kansas.
2015 Deaf Women History of 2015, #3 of 31 Days in March, Nancy Rourke Deaf Women United.
2015 Deaf Professional Artists Network D-PAN featured Nancy Rourke. See vlog.
2015 ASL Teachers Association, Judging for the ASL Youth Art Competition, nationwide.
2014 De'VIA Presentation at Pikes Peak Community College, Colorado Springs, Colorado.
2014 De'VIA Painting Workshop/Presentation at Deaf Women's Retreat, Aspen Camp, Aspen, Colorado.
2013 De'VIA Presentation at Calgary Association of the Deaf, Calgary, Alberta Canada.
2013 De'VIA Presentations at Queen Elizabeth Schools, Calgary, Alberta Canada.
2013 Honorary De'VIA Presentation at Eastern Alberta Association of the Deaf, Edmondton, Alberta Canada.
2013 De'VIA Presentation and Artist in Residency at Alberta School for the Deaf, Edmondton, Alberta Canada.
2013 De'VIA Presentations at University of Oregon, Eugene, Oregon.
2013 De'VIA Presentation at Columbia College, Chicago, Il.
2013 De'VIA Presentation at Madonna University, Livonia, Michigan.
2013 De'VIA Presentation at Michigan School for the Deaf, Flint, Michigan.
2013 Tiger Talks NTID's 45th Anniversary, Five Artists Painted "Unity of Eyeth." Rochester, New York.
2013 International Art Exhibition, "The World is Heard by the Soul" in Saint Petersburg, Russia.
2013 ABC Family Channel, Switched at Birth, Winter Premiere, First episode, One-Handed Alphabet poster.
2012 Honorary Committee, Deaf Arts Festival Board, Brooklyn, Michigan.
2012 Received a President's Circle pin from Gallaudet University, for recognizing 'We Came, We Saw, We Conquered.'
2011 RIT American Sign Language and Deaf Studies Community Center, 'Sign Internationally' painting as its logo, Rochester, NY.
2010 Sorenson Communications, Judging for the Deaf Youth Art Contest, Salt Lake City, Utah.
2010 Nancy Rourke has received the Puffin Foundation, LTD. Artist Grant.
2010 Wells Fargo Ski Cup, Ski Up High poster print autograph, Winter Park, Colorado
2009 Panel discussion/Hands-on at Innovation & Creativity at Rochester Institute of Technology, Rochester, NY.
2008 Heartland Arts Festival Southeast Nebraska Regional Program for the Deaf Students, Lincoln, Nebraska
2006 Juried Sweet-Art Show, Loveland, Colorado merit
2005 Celebrate America, Detroit, Michigan second
2005 Juried Sweet-Art Show, Loveland, Colorado second
2002 Regional Juried Show, Loveland, Colorado second
2002 Edmund Lyon Memorial Lectureship, Rochester, New York (click on link to see website)

Solo Exhibitions
2015 Solo Interview at ASL SLAM, Hamburger Mary's, Denver, Colorado.
2015 Nancy Rourke Solo Show, University of New Hampshire, Manchester, New Hampshire.
2015 Nancy Rourke Solo Show, Columbia College, Chicago, Ill.
2013 Alberta School for the Deaf, Edmondton, Alberta Canada.
2012 Mask of Benevolence Painting at Mozzeria Restaurant in San Francisco, California.
2012 Artist of the Month, Ziggi's Coffeehouse, Longmont, Colorado.
2011 Featured Artist, Deaf Arts Festival, Brooklyn, Michigan
2011 Nancy Rourke - The Expressionist Paintings Booth at Rainbow Alliance for the Deaf, Denver, Colorado
2011 Nancy Rourke - The Expressionist Paintings Booth at DeafNation Deaf Expo, Riverside, California
2010 Solo Show - 'Paintings about Deafhood, Deaf History and Audism', Dyer Arts Center at NTID/RIT, Rochester, NY
2010 Nancy Rourke - The Expressionist Paintings Booth at DeafNation World Deaf Expo, Las Vegas, Nevada
2010 Featured Artist, Mandolin Cafe, Loveland, Colorado
2009 Featured Artist, D-PAN, Deaf Professional Artists Network online gallery
2009 SOLO of Nancy Rourke's Deaf History and Deaf Culture at Colorado Association of the Deaf, Loveland, CO
2009 SOLO of Nancy Rourke's Joie de Vivre 2 at Alliance Franchaise Denver in the Santa Fe Arts District, Denver
2008 SOLO of Nancy Rourke's Joie de Vivre at Access Gallery in the Santa Fe Arts District, Denver, CO
2007 SOLO of Nancy Rourke's work at Kalediscope Gallery #113 in Bassett, Nebraska
2007 Featured Artist, Studio 6 Coffeehouse at Nine10 Arts, in the Santa Fe Arts District, Denver, CO
2007 Artist of the Month, Barnes & Noble Bookstore, Loveland, Colorado
2006 Featured Artist, VSA arts Access Gallery in the Santa Fe Arts District, Denver, CO
2005 Featured Artist, VSA arts Access Gallery in the Santa Fe Arts District, Denver, CO
2004 Featured Artist, Lincoln Gallery, Loveland, Colorado
2004 Art Stroll, Loveland Museum and Gallery, Loveland, Colorado
2002 Honored Lecturer Exhibition, Dyer Arts Center, Rochester, New York
1985 MFA Thesis Exhibition, Rochester Institute of Technology, Rochester, New York

Selected Group Exhibitions
2015 Pepco Edison's "Light There Be Light: De'ARTivism", Washington DC.
2014 II International Art Exhibition "The world heard the soul - Moscow 2014" Art Space Gallery of People's Artist of Russia Dmitry Belyukin.
2014 De'VIA 50th Anniversary Gala/Art Auction, at National Center on Deafness, California State University of Northridge, Northridge, California.
2014 De'VIA 25th Anniversary Art Show, Access Gallery in the Santa Fe Arts District, Denver, Colorado.
2014 99 Pieces of Art on the Wall, VSA arts Access Gallery in the Santa Fe Arts District, Denver, CO
2014 Deaf Arts Festival at Arts, Beats & Eats, Royal Oak, Michigan.
2014 De'VIA Banquet/Art Exhibition at Dyer Arts Center, at National Technical Institute of the Deaf at RIT, Rochester, New York.
2014 DeafQuest's De'VIA Art Show at Ravenswood Art Walk, Chicago, Illinois.
2014 Deaf Expo/Art Show at the Independence Expo, Colorado Springs, Colorado.
2014 De'VIA New Wave Juried Art Show, Washburn Arts Building, Gallaudet University, Washington, DC.
2013 De'VIA Marketplace, Brick City 45th Reunion at RIT/NTID, Rochester, New York
2013 Tiger Talks NTID's 45th Anniversary, Five Artists Painted "Unity of Eyeth." Rochester, New York.
2013 Deaf Artists Gallery at Ravenwood Walk, Chicago, Illinois.
2013 International Art Exhibition, "The World is Heard by the Soul" in Saint Petersburg, Russia.
2013 Deaf Arts Festival at Arts, Beats & Eats, Royal Oak, Michigan.
2013 Engage! Exposure! Experiment! Exhibit! Juried Art Show, Washburn Arts Building, Gallaudet University, Washington, DC.
2012 Jon Savage's 7240 Gallery, Space4Art, San Diego, California.
2012 Art & Chocolate at VisArts, Washington Society of Jewish Deaf, Rockville, Maryland.
2012 De'VIA Deaf Art Show, National Center on Deafness, California State University of Northridge, Northridge, California.
2012 De'VIA Show with Three Deaf Artists, Access Gallery, VSA Colorado, Denver, Colorado.
2012 Deaf Arts Festival at Arts, Beats & Eats, Royal Oak, Michigan.
2012 DeafNation World Expo Art Gallery, Mandalay Bay Resort, Las Vegas
2012 National Association of the Deaf, Louiseville, Kentucky, Live Auction.
2012 De'VIA Museum at Deaf Studies Today, Utah Valley University, Orem, Utah.
2012 Visual Reflections by Deaf Artists, Washburn Art Center, Gallaudet University, Washington, DC.
2012 Deaf Artists' Exhibit at the ASL Fest, Texas School for the Deaf, Austin, Texas.
2011 Deaf Introspective, Two Deaf Artists Show at Dyer Arts Center, NTID/RIT, Rochester, New York
2011 De'VIA Art Show at Delaplaine Visual Arts Education Center, Frederick, Maryland
2010 'Honoring Deaf People in their Community' Deaf Awareness Month at Front Range Community College, Westminister, CO
2010 ADA 20th Anniversary Celebrate, Nancy Rourke Expressionist Paintings Booth and Show, Denver Botanic Gardens, Denver, CO
2010 French Summer Soiree, Alliance Franchaise Denver, Denver Botanic Gardens, Denver, CO
2010 99 Pieces of Art on the Wall, VSA arts Access Gallery in the Santa Fe Arts District, Denver, CO
2010 Two Deaf Artists Show, 'On the Other Hand', VSA arts Access Gallery, Denver, Colorado
2010 Fellowship for The Foundation for Children in Need, Arlington Heights, Illinois
2009 Black Diamond Ball, Broncos Invesco Field Mile High, Denver, Colorado
2009 De'VIA Deaf Artists Show, National Center on Deafness, California State University of Northridge, Northridge, California
2009 Dove's Benefit Dinner, Coors Field, Denver, Colorado
2007 June Juried Show, Lincoln Gallery, Loveland, Colorado
2007 99 Pieces of Art, VSA arts Access Gallery in the Santa Fe Arts District, Denver, CO
2007 Art Students League Gallery, Denver, Colorado
2006, 2007 Two Deaf Artists Show, The Children's Hospital Gallery, Denver, Colorado
2005 Celebrate America Deaf Art, Holley Ear Institute, Detroit, Michigan
2005 Juried Sweet-Art Show, Lincoln Gallery, Loveland, Colorado
2002 Regional Juried Show, Lincoln Gallery, Loveland, Colorado
1986 Twelve Deaf Artists, Ankrum Gallery, Beverly Hills, California
1978 Deaf American Artists, National Gallery of Art, Washington, D.C.

Selected Bibliography
Book cover: Stand for Justice, The Oxford Handbook of Deaf Studies in Language, Oxford University Press, Author Marc Marschark & Patricia Elizabeth Spencer.
Signing Naturally Units 1-6 curricular materials, with three Nancy Rourke painting images.
Grupo Positivo, textbook for elementary schools, with "Understanding Deaf Culture" image, Brazil.
DeafKan Deaf Kids Art Network, April 2014, Interview with Nancy Rourke.
Book cover: We Came We Saw We Conquered, Textbook: "Bilingual Education for the Deaf: Policy and Practice" from University of Parana, in Curitiba, Brazil, Sept 2014
Nancy Rourke: Deaf Artist Series, Empyreal Press, Author Jim Van Manen, Phd, First Edition, Oct 2014.
Featured Artist-Nancy Rourke, Deaf Studies Digital Journal, Spring 2014 Fourth Issue.
Understanding Deaf People in Counseling Contexts, Counseling Today magazine, October 2013 Issue, page 38 of ASL PRIDE painting.
Silent Interview with Thomsen Young at the Silent Grapevine, February 2013.
Art'Pi. Deaf French Arts Magazine, Paris, France, October 2012 Issue, page 37.
October 2012 Issue No. 9 magazine Bibliothèque Publique d'Information, Paris, France, "dossier être Sourd," page 13-15.
Introduction to American Deaf Culture Today, Oxford University Press, Author Thomas K.Holcomb, First Edition, Oct 2012.
'Mask of Benevolence Appears on Our Wall,' a San Francisco based restaurant Mozzeria, May Issue.
Featured Artist-Nancy Rourke, Deaf Studies Digital Journal, Spring 2012 Third Issue.
Art'Pi, Deaf French Arts Magazine, Paris,France, April Issue 2012, page 8.
Art'Pi, Deaf French Arts Magazine, Paris,France, November 2011 Issue, page 8 of 'Ethnic Deaf' painting.
DeafLife magazine, August 2011 Issue #188, Cover magazine of George Veditz painting.
Understanding Deafhood, Clerc Scar's Laurent Newsletter February 2011.
Featured Artist-Nancy Rourke, Deaf Studies Digital Journal, Fall 2010 Second Issue.
Our Bicultural Evolution, RIT Athenaeum, October/November 2010. Cover Page
A work of art , The Tiger Beat Blog, Rochester Institute of Technology, University News, October/November 2010.
Campus Spotlight, University News, Rochester Institute of Technology, October 2010.
Celebrate Deaf Awareness Month, Sorenson Communications, September 2010.
Four Paintings on Audism, KISS-FIST e-magazine, June 2010.
Incompatible, Clercscar, Online Publication of the Signing Community, February 2010.
Meet the Artists- Nancy Rourke, D-PAN Deaf Professional Artists Network November, 2009.
Spotlight on Nancy Rourke, SIGNews by Raymond Luczak 2007.
RIT/NTID Deaf Art/Deaf Artists, Deaf Artist in Painting., February 2005.
Deaf Artist Colorado in Art Registry, VSA, Washington, D.C., December 2005.
Deaf Woman Artist Receives Lyons Lectureship, Deaf Rochester News, April/May 2002.
Rourke Named NTID Distinguished Lecturer, RIT News & Events, Vol. 34, No. 13. March 14, 2002.
Signs of Success, Loveland Daily Herald-Reporter, Focus, Section B, March 4, 2002.

Lectures
2015 De'VIA Workshop/Presentation at Ohio School for the Deaf, Columbus, Ohio.
2015 De'VIA Presentation at Virginia School for the Deaf and Blind, Staunton, Virginia.
2015 De'VIA Presentation at University of Virginia, Charolettville, Virginia.
2015 De'VIA Presentation at University of New Hampshire, Manchester, New Hampshire
2015 De'VIA Presentation at Columbia College, Chicago, Ill.
2015 De'VIA Curriculum Development Project, California School for the Deaf, Fremont, CA.
2015 Deaf Women/De'VIA Artists Presentation/Workshop at Deaf Women United, Berkeley, CA.
2015 De'VIA Workshop at Rocky Mountain Deaf School, Denver, Colorado.
2015 De'VIA Presentation at Maryland School for the Deaf, Frederick, Maryland.
2015 De'VIA Workshop at Kendall Demonstration Elementary School, Washington, DC.
2015 De'VIA Presentation/Workshop at Model Secondary School for the Deaf, Washington, DC.
2014 Artist's Talk, for the Deaf Culture Studies at Pikes Peak Community College, Colorado Springs, Colorado.
2014 De'VIA Workshop at Rocky Mountain Deaf School for Middle and High Schoolers, Denver, Colorado.
2013 De'VIA Presentation at Calgary Association of the Deaf for K to 12, Calgary, Alberta Canada.
2013 De'VIA Presentations at Queen Elizabeth Schools for K to 12, Calgary, Alberta Canada.
2013 De'VIA Presentation at Alberta School for the Deaf for elementary to high schoolers, Edmondton, Alberta Canada.
2013 De'VIA Presentations at University of Oregon, Eugene, Oregon.
2013 De'VIA Presentation at Columbia College, Chicago, Il.
2013 De'VIA Workshop at Madonna University for Middle Schoolers, Livonia, Michigan.
2013 De'VIA Presentation at Michigan School for the Deaf, Flint, Michigan.
2013 Deafhood to Artivism, Presentation at NTID, Rochester, New York.
2013 International Art Exhibition, "The World is Heard by the Soul" in Saint Petersburg, Russia.
2013 De'VIA Presentation at Mississippi School for the Deaf and Blind for K to 12, Jackson, Mississippi.
2012 De'VIA Workshop at Access Gallery, Denver, Colorado.
2012 Video interview with DeafNation's No Barriers with Joel Barish at Access Gallery, Denver, Colorado.
2012 Artist's Video Presentation, for the Deaf Culture Studies at Pikes Peak Community College, Colorado Springs, Colorado.
2012 Panel discussion at University of Colorado at Boulder, Colorado.
2012 Artist's Talk, for the ASL/Deaf Culture class at K-8 Monarch School, Louisville, Colorado.
2011 Hands-On Activity/Presentation on 'What is De'VIA?' at RIT ASL and Deaf Studies Community Center, Rochester, NY.
2011 Artist's Talk, at Dyer Arts Center at NTID/RIT, Rochester, New York.
2011 Artist's Talk, at Deaf Arts Festival, Brooklyn, Michigan.
2011 Video Presentation with Eastern Kentucky University, Richmond, Kentucky.
2011 De'VIA Talk, at The Delaplaine Visual Arts Education Center, Frederick, Maryland.
2011 Artist's Talk, for the Deaf Culture Studies at Pikes Peak Community College, Colorado Springs, Colorado.
2010 Panel discussion at Denver Arts Week on 'THIS IS YOUR BRAIN ON ART', Denver, Colorado.
2010 Artist's Talk, at Dyer Arts Center at NTID/Rochester Institute of Technology, Rochester, New York.
2009 Panel discussion at Denver Art Museum on "Universal Design" for the Disabled, Denver, Colorado
2009 Panel discussion/Hands-on at Innovation & Creativity at Rochester Institute of Technology, Rochester, NY
2008 Heartland Arts Festival Southeast Nebraska Regional Program for the Deaf Students, Lincoln, Nebraska
2008 Panel discussion at Colorado symposium "Art Works- a Conversation about Careers in the Art", Denver, CO
2002 Edmund Lyon Memorial Lectureship Award at Rochester Institute of Technology, Rochester, New York

Selected Commissions
2013 Deaf Society of New South Wales, Sydney, Australia, Celebrating 100th year of Sign Language, October 2013.
2010 World Deaf Golf at St. Andrews, Scotland, 11x14inch dry pastels on bristol board for the World Deaf Golf Championships, St. Andrews, Scotland
2009 Ski Up High, 18inch by 24inch oil on canvas for the Wells Fargo Ski Cup and National Sports Center for the Disabled, Winter Park, Colorado
2007 City Park, Denver, 24inch by 30inch oil on canvas for Women's Vision Foundation, Denver, Colorado

Permanent and Private Collections
Maryland School for the Deaf, Frederick, Maryland.
Model Secondary School for the Deaf, Washington, DC.
Galluadet University, Washington, DC.
Kendall Demonstration Elementary School, Washington, DC.
Colorado School for the Deaf and Blind, Colorado Springs, Colorado.
Alberta School for the Deaf, Edmonton, Alberta, Canada.
Mississippi School for the Deaf and Blind, Jackson, Mississippi.
Peter Wilson, St. Andrews, Scotland
Wells Fargo Bank, Denver, Colorado see painting.
National Sports Center for the Disabled, Denver, Colorado
The Children's Hospital, Denver, Colorado
Rochester Institute of Technology, Rochester, New York, Eleven paintings.
Saint John the Evangelist, Loveland, Colorado
American School for the Deaf, West Hartford, Connecticut

Memberships
Fine Art America, online Art Gallery
VSA arts, Access Gallery in the Santa Fe Arts District, Denver, Colorado
VSA arts, Artists Registry, Washington, D.C.
Artbreak, online Art Gallery