Description about the painting:
This painting is Arnaud Balard. He is a Deaf French Artist born in 1971.

He created the Surdism Art Movement in 2009, in Brussels. He wrote a manifesto, to propose artistics exchanges on all Deaf subjects and experiences. Identity, History, Bilingualism, Biculturalism, Audism, Deafhood, all expressed by the emergence of a Deaf Art, is the goal of Surdism. The Surdism's manifesto can be read on Facebook Art profile: le surdisme par arnaud balard.

(French Translated)
Cette peinture est le portrait d'Arnaud Balard.C'est un artiste Sourd né en 1971.
"Il a crée le mouvement artistique surdiste à Bruxelles.Il a écrit un manifeste pour proposer des échanges artistiques sur des sujets et expériences "Pi-Sourdes".Identité, histoire, bilinguisme, bi-culturalisme, audisme, surditude, tous ces sujets abordé au moyen de l'art Sourd, est l'objectif du surdisme.
Le manifeste peut-être lu en entier sur son profil facebook: le surdisme par Arnaud Balard.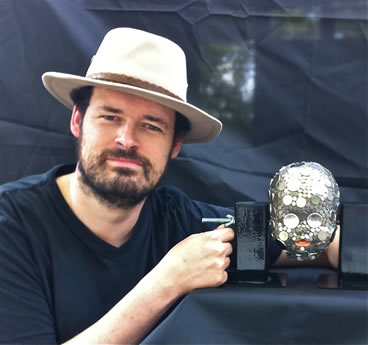 Courtesy of Christelle Balard