Updated as of September 19, 2016
I have updated this painting by filling in the white swirl. What I filled in, was adding my next art journey, Surdism.
Surdism was introduced by Arnaud Balard - a French Deafblind artist and ARTivist. He created the manifesto that is similar to De'VIA, and it includes other genres; Deaf theatre, poetry, literature, cinema, and visual art.
Surdism focuses on the Deaf experience that evolves social change. From the beginning of my De'VIA journey in 2009, I was still searching for more that had not come out until 2012, where Second Wave of De'VIA started.
That is ARTivism and politics.
On the white swirl journey, De'VIA was re-invented into the Second Wave:

SECOND WAVE OF De'VIA, WHAT IS SURDISM?, SOCIAL CHANGE, ARTIVISM, TRUTH BE TOLD, DEAF EXPERIENCE, COLLABORATION, FLY, FLY, SOAR, SOAR, and PAH!


This original painting was done from the 28 Day Challenge:

Day 28 of 29 Days
SPIRAL motif/ liberation category

The black spiral journey starts at INTRODUCTION and then on to my first trial which focused mainly on my own artistic exploration. This is about the first-second year I had been painting. While painting, many things have happened and how that impacted my searching for identity and when I survived, I moved forward into a deep thinking and finishing the paintings and what had happened after that, into my accomplishments:

WHAT IS De'VIA?, DRAWING, THINKING, VISUAL THINKING, METAPHORS, MOTIF, SOLVE, IDEA, DAY/NIGHT DREAMING, BLOCKS, ISOLATION, SHAMAN, FEARS, ACCEPT, BRAINSTORM, PROBLEM SOLVING, DEAF GAIN, COLLECTIVE CONSCIOUSNESS, DO SOMETHING, and PAH!
This painting is based on how the thinking process works through De'VIA. How my mind works when creating a piece of art.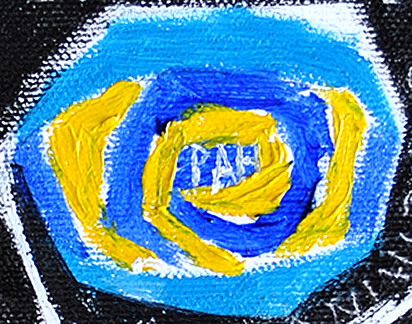 PAH on the EYE