Description about the painting:

This painting is from the 28 Days in February Challenge 2015. I changed the painting around and made it camouflaged with patterns as I wanted to focus on how Deaf children were treated in oral schools and mainstreamed program. This is supposed to be like a class picture. I am inspired by Betty G. Miller's Bell School, 1944. They were kept hidden with constant hard work. Not only that, this is also about Language Deprivation where doctors, teachers, speech therapists want to emphasize on listening-spoken-language (LSL).

The Deaf children are tied with chains on their hands, not to use sign language where it is their first visual language. In the painting, shows that they are blindfolded with blue tape, meaning they cannot peek or cheat. They have to learn how to identify sounds. In the painting, there is a wallpaper with Melville Graham Bell's 1867 Visible Speech symbol (that shows bells). A bell symbol stands for AGBell and its associates. Melville is Alexander Graham Bell's father. The carpet shows patterns with Melville Graham Bell's Visible Speech, that shows a silhouette of a face with mouth and tongue. His methods of using Visible Speech failed as it did not worked well for Deaf children.


This is an example of Melville's odd symbols
that he used for "visible speech".
The three symbols stands for BELL.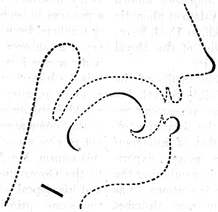 Here is another example of Melville's visible speech of a face,
mouth and tongue. He focused on how a voice is
spoken, a tongue responded.