Description about the painting:

Chain Motif February 1, resistance theme
#DeVIA28Challenge
Day 1 of 28 Days
Preschool Oralist Abuse
oil on canvas
20 inch by 30 inch
This painting is about Language Deprivation where doctors, teachers, speech therapists want to emphasize only listening spoken language and sign language comes later in life. They are trapped to only listen and speak and not use their own visual language where they can easily pick up a language and understand English efficiently.This is about Deaf children age 3 - 4, forced to learn how to listen and speak, with cones and CI in their ears and hands are chained. They are not allowed to sign. They are blindfolded with blue tape, meaning they cannot look, peek or cheat. They have to learn how to identify sounds. In the painting, there is a wallpaper with bells and Melville Graham Bell's symbol stands for "bell" meaning AGB and its associates. Melville is Alexander Graham Bell's father. The carpet shows patterns with Melville Graham Bell's visible speech that shows a silhouette of a face with mouth and tongue. This is all about second wave of oralism. This is oralism abuse. There is a hidden message on each child.


This is an example of Melville's odd symbols
that he used for "visible speech".
The three symbols stands for BELL.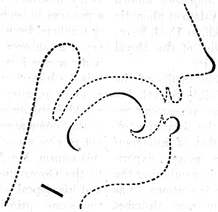 Here is another example of Melville's visible speech of a face,
mouth and tongue. He focused on how a voice is
spoken, a tongue responded.