Day 28 of 29 Days
SPIRAL motif/ liberation category

The spiral journey starts at INTRODUCTION and then on to:

WHAT IS De'VIA?, DRAWING, THINKING, VISUAL THINKING, METAPHORS, MOTIF, SOLVE, IDEA, DAY/NIGHT DREAMING, BLOCKS, ISOLATION, SHAMAN, FEARS, ACCEPT, BRAINSTORM, PROBLEM SOLVING, DEAF GAIN, COLLECTIVE CONSCIOUSNESS, DO SOMETHING, and PAH!
This painting is based on how the thinking process works through De'VIA. How my mind works when creating a piece of art.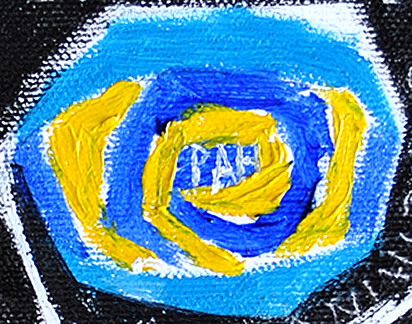 PAH on the EYE